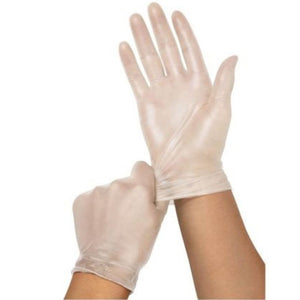 Total Dry Clear Vinyl Exam Glove, Powder-free, Latex-free, Ambidextrous
The Total Dry Vinyl Exam Glove is a reliable and versatile choice for various applications. This powder-free and latex-free glove offers a smooth finish, providing excellent tactile feedback for enhanced sensitivity during exams or tasks. Designed to be ambidextrous, it ensures convenient and comfortable use for both right and left-handed individuals. With its FDA inspection, you can trust in its quality and adherence to stringent standards. The clear vinyl material is carefully crafted to achieve the ideal thickness, with fingers measuring 0.09mm and palms measuring 0.07mm. Whether you're working in a lab, kitchen, shop, or around the house, this glove is up to the task. It offers protection, cleanliness, grip, and durability to support you in your daily endeavors.
Features and Benefits
Powder-free and latex-free design for reduced risk of allergies
Smooth finish for greater tactile feedback and sensitivity
Ambidextrous construction allows for convenient use with either hand
FDA inspected for quality assurance
Clear vinyl material offers durability and flexibility
Optimal thickness: fingers are 0.09mm thick, palms are 0.07mm thick
Versatile glove suitable for various environments and tasks
Provides protection, cleanliness, grip, and reliability
Ideal for use in labs, kitchens, shops, and around the house
Specifications
Available Sizes


Small (6PVC511)
Medium (6PVC512)

Powder-free: Yes
Latex-free: Yes
Finish: Smooth
Ambidextrous: Yes
FDA Inspection: Yes
Material: Clear vinyl
Finger Thickness: 0.09mm
Palm Thickness: 0.07mm
Brand: Total Dry
What are Medical Exam Gloves?
Medical exam gloves are disposable gloves used by healthcare professionals during medical procedures to prevent the transmission of pathogens and cross-contamination. Made from materials like latex, nitrile, or vinyl, these gloves provide a protective barrier while ensuring dexterity and tactile sensitivity. They are worn during physical examinations, surgeries, wound care, and other medical interventions in hospitals, clinics, and laboratories. It's important to discard them after each use and practice proper hand hygiene to maintain infection control.
Other Medical Exam Gloves Sold at Discreet Diabetes Supplies
Buy from Discreet Diabetes Supplies and save!
Our price for Total Dry Clear Vinyl Exam Glove, Powder-free, Latex-free, Ambidextrous is one of the cheapest. Please don't forget to check out our highly discounted gloves and other medical products sold at our online store.
---
We Also Recommend
---