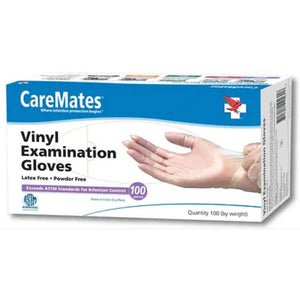 CareMates Vinyl Exam Glove, Small, Non-sterile, Powder-free, Latex-free, 10411010
Introducing CareMates Vinyl Exam Gloves, the versatile choice for a wide range of healthcare applications. Whether it's first aid, health care, baby care, diabetes care, pet care, auto care, food handling, or any general healthcare needs, these gloves provide reliable performance and protection you can trust. With their exceptional quality and value, CareMates Vinyl Exam Gloves offer a consistent fit and are an economical option without compromising on safety.
Features and Benefits
Exceeds ASTM Quality Standards: CareMates Vinyl Exam Gloves go above and beyond the ASTM quality standards, ensuring exceptional performance and reliability for various healthcare tasks.
Latex-Free: These gloves are completely latex-free, making them a suitable choice for individuals with latex allergies or sensitivities, while still providing the necessary protection and barrier properties.
Best Economical Value: CareMates Vinyl Exam Gloves offer the best value for your investment, providing a cost-effective solution without compromising on quality and performance.
Consistent Fit: With a focus on comfort and usability, these gloves provide a consistent fit, ensuring ease of use and optimal dexterity during various healthcare procedures.
Specifications
Size: Small

Non-Sterile
Powder-Free
Latex-Free
Brand: Shepard Medical Products
MPN: 10411010
What are Medical Exam Gloves?
Medical exam gloves are disposable gloves used by healthcare professionals during medical procedures to prevent the transmission of pathogens and cross-contamination. Made from materials like latex, nitrile, or vinyl, these gloves provide a protective barrier while ensuring dexterity and tactile sensitivity. They are worn during physical examinations, surgeries, wound care, and other medical interventions in hospitals, clinics, and laboratories. It's important to discard them after each use and practice proper hand hygiene to maintain infection control.
Other Medical Exam Gloves Sold at Discreet Diabetes Supplies
Buy from Discreet Diabetes Supplies and save!
Our price for CareMates Vinyl Exam Glove, Small, Non-sterile, Powder-free, Latex-free, 10411010 is one of the cheapest. Please don't forget to check out our highly discounted gloves and other medical products sold at our online store.
---
We Also Recommend
---