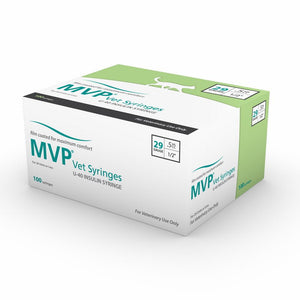 MHC MVP Vet 29G (0.33mm) 1/2in (12.7mm) 1/2cc (0.5mL) Box of 100 U-40 Insulin Syringes
MHC MVP 29G (0.33mm) 1/2in (12.7mm) 1/2cc (0.5mL) U-40 Insulin Syringes are designed and manufactured to the highest quality levels possible which your pet will quickly recognize as they experience a more comfortable injection. This is made possible because every MHC syringe is engineered with surgical steel then triple-bevel cut for a sharper point, and electro-polished to remove microscopic burrs to give every syringe a smooth finish. To ultimately result in a smoother, more comfortable and less painful injection each syringe is film coated for maximum comfort. If you are caretaker for a diabetic pet, you know how important it is to choose quality products for administering medications and giving vaccinations. You also are aware of the high expense to administer these drugs. MVP® Vet Syringes offers high quality syringes at affordable prices.

MHC EasyTouch Insulin Syringes feature
- Needle Gauge: 29G (0.33mm)
- Needle Length: 1/2in (12.7mm)
- Syringe Capacity: 1/2cc (0.5mL)
- For use with U-40 Insulin
- Needles are made with surgical steel
- Needles are triple-bevel cut for a sharper point
- Needles are electro-polished to remove burrs for a smoother injection
- Needles are film coated for maximum comfort
- Thin wall cannulas for easier flow
- Quality comparable to national leading brands
- Easy-to-read information on each side of the box
- Box of 100
- MFG P/N: 819550

How to choose the right size insulin syringe
Choose the smallest size syringe which is big enough to hold the largest dose you take in a day. If your largest dose is close to the syringe's maximum capacity, you might want to buy the next size up to handle any increases in your dose adjustments.
0.3mL – Ideal for doses under 30 units
0.5mL – Ideal for doses between 30 units and 50 units
1.0mL – Ideal for doses over 50 units

Important Note
MHC MVP 29G (0.33mm) 1/2in (12.7mm) 1/2cc (0.5mL) U-40 Insulin Syringes are for single use only. After injecting insulin please dispose of syringes properly by using a specifically designed sharps container. There is a high possibility of infection if syringes are used more than once. Sharpness and lubrication also deteriorate after first use.

Storage and Use of Medicine
Check the drug information sheet or contact the drug manufacturer for recommended storage and use of your medicine. To avoid clogging and/or contamination of the syringe needle, DO NOT store medicine inside the syringe.

RX Requirements
By proceeding to purchase through our website you acknowledge that syringes will be used for diabetic or other legitimate medical purpose and that you are over 18 years of age. You are solely responsible for following the laws of your State. We reserve the right to refuse any order in the event that filling such order would violate any Federal, State, local law, or regulation. The states of CT, DE, FL (Miami-Dade, Monroe, Broward), IL, ME, NH, NJ, NY, TN, and the US Virgin Islands restrict the sale of syringes and needles to licensed professionals and entities or by prescription only. See RX Requirements for more details.
---