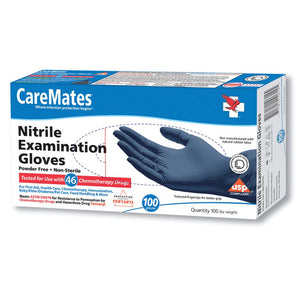 CareMates Nitrile Exam Glove, Non-sterile, Powder-free, Latex-free, Chemo Rated
Introducing CareMates Nitrile Exam Gloves, the trusted choice for various healthcare applications. These gloves are specifically designed to provide exceptional performance and protection, making them the preferred option for chemotherapy, home infusion treatments, and compounding pharmacies. Whether you're administering chemotherapy drugs, compounding medications, or seeking a reliable alternative to latex gloves, these gloves deliver the quality and reliability you need.
Features and Benefits
Chemo Rated: CareMates Nitrile Exam Gloves are the glove of choice for chemotherapy and home infusion treatments, ensuring the necessary protection during these critical procedures.
Meets ASTM D6978 Standards: These gloves meet the stringent ASTM D6978 standards for resistance to permeation by 46 chemotherapy drugs, as well as permeation by Fentanyl, making them highly reliable and suitable for chemotherapy applications.
USP800 Compliance: Use these gloves to meet the requirements of USP800 guidelines, ensuring safe and compliant practices in compounding pharmacies.
0% Viral Penetration per EU PPER: With zero viral penetration, these gloves provide a high level of protection against potential viral contamination, keeping both the wearer and patients safe.
Low Dermatitis Patented Technology: CareMates Nitrile Exam Gloves feature patented technology that reduces the risk of dermatitis, making them gentle on the skin even during extended use.
Quality Alternative to Latex Gloves: These gloves offer a superior alternative to latex gloves, providing excellent tactile sensitivity, flexibility, and protection without the risk of latex allergies.
Glove of Choice for Compounding Pharmacies: CareMates Nitrile Exam Gloves are the preferred choice for compounding pharmacies, offering the necessary performance and protection for pharmaceutical compounding tasks.
Specifications
Available Sizes


Small (

10611020)

Extra Large (10614020)

Non-Sterile
Powder-Free
Latex-Free
Chemo Rated
Brand: Shepard Medical Products
What are Medical Exam Gloves?
Medical exam gloves are disposable gloves used by healthcare professionals during medical procedures to prevent the transmission of pathogens and cross-contamination. Made from materials like latex, nitrile, or vinyl, these gloves provide a protective barrier while ensuring dexterity and tactile sensitivity. They are worn during physical examinations, surgeries, wound care, and other medical interventions in hospitals, clinics, and laboratories. It's important to discard them after each use and practice proper hand hygiene to maintain infection control.
Other Medical Exam Gloves Sold at Discreet Diabetes Supplies
Buy from Discreet Diabetes Supplies and save!
Our price for CareMates Nitrile Exam Glove, Non-sterile, Powder-free, Latex-free, Chemo Rated is one of the cheapest. Please don't forget to check out our highly discounted gloves and other medical products sold at our online store.
---
We Also Recommend
---