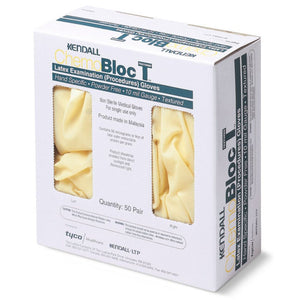 Kendall ChemoBlock T Latex Exam Glove, Small, Non-sterile, Powder-free, Chemo Rated, Box of 100 Gloves, CT5055G
The Kendall ChemoBlock T Latex Exam Gloves are designed to provide maximum protection and durability when handling hazardous substances, particularly during chemotherapy-related activities. These powder-free gloves offer a secure grasp with their textured fingertips and feature a beaded cuff that adds strength and resists tearing.
Features and Benefits
Durable latex material protects hands from hazardous substances
Textured fingertips provide a secure grasp
Beaded cuff adds strength and resists tearing
Hand-specific design reduces fatigue during prolonged use
Powder-free to prevent contamination and maintain cleanliness
Tear-away feature indicates punctures for immediate replacement
Meets ASTM guidelines for use in chemotherapy, ensuring reliable protection
Specifications
Size: Small
Sold per Box (100 Gloves)
Sterility: Non-sterile
Powder-free: Yes
Cuff Style: Beaded cuff
Chemo Rated: Yes
Brand: Kendall
Model: CT5055G
What are Medical Exam Gloves?
Medical exam gloves are disposable gloves used by healthcare professionals during medical procedures to prevent the transmission of pathogens and cross-contamination. Made from materials like latex, nitrile, or vinyl, these gloves provide a protective barrier while ensuring dexterity and tactile sensitivity. They are worn during physical examinations, surgeries, wound care, and other medical interventions in hospitals, clinics, and laboratories. It's important to discard them after each use and practice proper hand hygiene to maintain infection control.
Other Medical Exam Gloves Sold at Discreet Diabetes Supplies
Buy from Discreet Diabetes Supplies and save!
Our price for Kendall ChemoBlock T Latex Exam Glove, Small, Non-sterile, Powder-free, Chemo Rated, CT5055G is one of the cheapest. Please don't forget to check out our highly discounted gloves and other medical products sold at our online store.
---
We Also Recommend
---