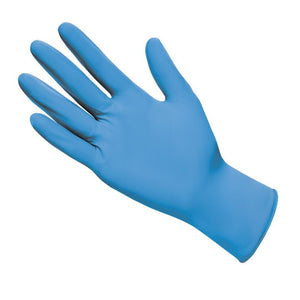 Medline Nitrile Exam Glove, Medium, Powder-Free, Sterile, Latex-Free, Sold per Glove, MDS198215
Introducing the Medline Nitrile Exam Glove, a sterile, powder-free, and latex-free solution for areas requiring durable sterile protection. These nitrile exam gloves are designed for use in settings such as the ER, burn center, pharmacy, or any other environment where sterile and reliable protection is crucial.
Features and Benefits
Sterile Protection: These gloves are sterile, ensuring a high level of cleanliness and preventing contamination during sensitive procedures. They provide a reliable barrier against potential pathogens and other contaminants.
Convenient Pair Packaging: Each glove is conveniently packaged in pairs, allowing for easy and efficient distribution, reducing waste, and ensuring that healthcare professionals have the necessary equipment readily available.
Compliance and Safety: The Medline Nitrile Exam Gloves meet both the ASTM D6978-05 standard for resistance to permeation by chemotherapy drugs and the USP 800 Personal Protection Equipment requirement for handling hazardous drugs, when used in accordance with the guidelines outlined in the USP 800 chapter. Tested chemotherapy drugs are available upon request for comprehensive evaluation.
Latex-Free and Powder-Free: These gloves are made from nitrile, providing a latex-free option for individuals with latex allergies or sensitivities. They are also powder-free, minimizing the risk of powder-related contamination or irritations.
Enhanced Design: The gloves feature a beaded cuff for a secure fit, full texture for improved grip, and optimal finger and palm thickness (4.9 mil and 4.1 mil, respectively) for a balance of dexterity and protection.
Specifications
Size: Small
Color: Blue
Sold per Singles (1 Glove)
Latex-Free: Yes
Material: Nitrile
Powder: No
Texture: Full Textured
Accelerators: Yes
Chemo: Yes
Coated: No
Sold per gloves
Brand: Medline
MPN: MDS198215
What are Medical Exam Gloves?
Medical exam gloves are disposable gloves used by healthcare professionals during medical procedures to prevent the transmission of pathogens and cross-contamination. Made from materials like latex, nitrile, or vinyl, these gloves provide a protective barrier while ensuring dexterity and tactile sensitivity. They are worn during physical examinations, surgeries, wound care, and other medical interventions in hospitals, clinics, and laboratories. It's important to discard them after each use and practice proper hand hygiene to maintain infection control.
Buy from Discreet Diabetes Supplies and save!
Our price for Medline Nitrile Exam Glove, Powder-Free, Sterile, Latex-Free, Medium, MDS198215 is one of the cheapest. Please don't forget to check out our highly discounted gloves and other medical products sold at our online store.
---
We Also Recommend
---