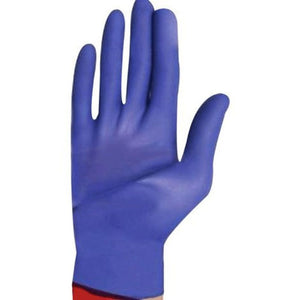 Cardinal Health Flexal Feel Nitrile Exam Glove, Small, Powder-free, Latex-free, Box of 100 Gloves, Cool Blue, N88TT21S
Introducing Cardinal Health Flexal Feel Nitrile Exam Gloves, the ultimate choice for healthcare professionals seeking a natural feel, exceptional fit, and reliable protection. These gloves are designed to provide unparalleled comfort and tactile sensitivity, ensuring precise and confident handling in various applications.
Features and Benefits
Natural Feel and Fit: Flexal Feel Nitrile Exam Gloves offer a natural feel and form-fitting tactile sensitivity, providing healthcare professionals with the dexterity and control they need during procedures. The gloves conform to the shape of the hand, offering a comfortable and snug fit.
Lightweight yet Strong: These gloves are lightweight, reducing hand fatigue and allowing for improved dexterity. Despite their lightweight design, they maintain exceptional strength, ensuring reliable protection against biological contaminants and minimizing the risk of punctures.
Textured Fingertips for Enhanced Grip: The gloves feature textured fingertips that enhance grip, even in wet and dry environments. This textured surface enables healthcare professionals to maintain a firm hold on instruments and other materials, enhancing overall safety and performance.
Latex-Free and Powder-Free: Flexal Feel Nitrile Exam Gloves are latex-free, making them suitable for individuals with natural latex sensitivities or allergies. The absence of powder reduces the risk of irritation and residue, making these gloves ideal for applications where cleanliness is crucial.
Versatile Applications: These gloves are designed for a wide range of applications, including laboratory work, healthcare settings, tattoo procedures, first response situations, and general examination purposes. Their versatility makes them a valuable asset in various professional environments.
Outstanding Protection: The Flexal Feel Nitrile Exam Gloves provide outstanding protection against biological contaminants, ensuring a reliable barrier between the wearer and potentially harmful substances. Their puncture-resistant finish allows for safe handling of various chemicals, further enhancing the safety and confidence of healthcare professionals.
Cool Blue Color: These gloves come in a cool blue color, adding a touch of distinction and professionalism to healthcare settings.
Specifications
Size: Small
Sterility: Non-sterile
Sold per Box (100 Gloves)
Powder-Free: Yes
Latex-Free: Yes
Color: Cool Blue
Nominal Fingertip Thickness: 3.5 mil (.09mm)
Brand: Cardinal Health
MPN: N88TT21S
What are Medical Exam Gloves?
Medical exam gloves are disposable gloves used by healthcare professionals during medical procedures to prevent the transmission of pathogens and cross-contamination. Made from materials like latex, nitrile, or vinyl, these gloves provide a protective barrier while ensuring dexterity and tactile sensitivity. They are worn during physical examinations, surgeries, wound care, and other medical interventions in hospitals, clinics, and laboratories. It's important to discard them after each use and practice proper hand hygiene to maintain infection control.
Other Medical Exam Gloves Sold at Discreet Diabetes Supplies
Buy from Discreet Diabetes Supplies and save!
Our price for Cardinal Health Flexal Feel Nitrile Exam Glove, Small, Powder-free, Latex-free, Cool Blue, N88TT21S is one of the cheapest. Please don't forget to check out our highly discounted gloves and other medical products sold at our online store.
---
We Also Recommend
---