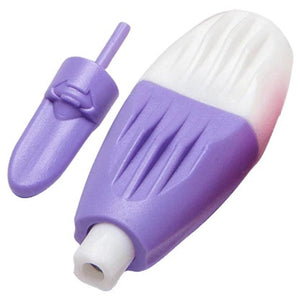 BD Microtainer 30G (0.30mm) Contact-Activated Lancets, 30 Gauge, 1.5mm Pennetration Depth, Low Flow, Purple, Becton Dickinson
The BD Microtainer® contact-activated lancet is a safety-engineered device used for the fingerstick collection of blood. The lancet enhances user comfort with an ergonomic design for a more comfortable grip. It activates only when positioned and pressed against the skin, facilitating a consistent puncture depth for easier sampling. The lancet covers only a small area at the contact point, which improves the visibility of the desired puncture site. The intuitive procedure reduces training time, and the design prevents product reuse, reducing the possibility of patient, clinician, and/or sample contamination.

BD Microtainer Contact-activated Lancets Features and Benefits
Ergonomic design: The lancet enhances user comfort with an ergonomic design for a more comfortable grip.

Easier sampling: It activates only when positioned and pressed against the skin, facilitating a consistent puncture depth for easier sampling.
Improved visibility: The lancet covers only a small area at the contact point, which improves the visibility of the desired puncture site.
Intuitive procedure: The intuitive procedure reduces training time, and the design prevents product reuse, reducing the possibility of patient, clinician, and/or sample contamination.
BD Microtainer Contact-activated Lancets Specifications
Needle Gauge (Width): 30 Gauge, 30G, 0.30mm
Needle Penetration Depth: 1.5 mm
Blood Volume: Low Flow
Color: Purple
MPN: 366592
What is the puncture depth of a Microtainer contact activated lancet?

366592 Purple lancet penetrates 1.5 mm, 30 Gauge
366593 Pink lancet penetrates 1.8 mm, 21 Gauge
366594 Blue lancet penetrates 2.0 mm and blade width is 1.5 mm.
We also sell the following Becton Dickinson Microtainer contact activated lancets
WARNING
Fingersticks should not be performed on children less than 1 year of age (according to CLSI guidelines).
Buy from Discreet Diabetes Supplies and save! Our price for BD Microtainer Lancets is one of the cheapest. Also, please don't forget to check out our other highly discounted lancets and other diabetes products sold at our online store.
---
We Also Recommend
---